SIXTEEN CANDLES
(John Hughes; 1984)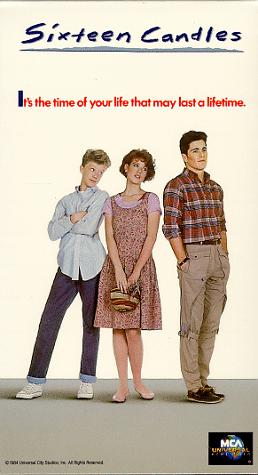 Starring:
Anthony Michael Hall, Molly Ringwald, Michael Schoeffling, plus John & Joan Cusack.
Sounds:
[The Geek: "Borrow Underwear"] [Long Duk Dong: "Food"] [Samantha: "Gave panties to geek"]
This movie doesn't take itself too seriously and is all the better for it. The action starts off as Samantha (Molly Ringwald) finds her whole family have forgotten her 16th birthday and then moves on to a school dance, a party afterwards and the morning after. Along the way she falls in love with Jake (Michael Schoeffling) who is seeing someone else whilst "The Geek" (Anthony Michael Hall) is in love with her. But it's all okay as she ends up with Jake, whilst The Geek ends up with the girl Jake was with originally. All this after much party antics by extras and lots of feeling sorry for herself by Molly Ringwald.
This was John Hughes first movie, though you probably wouldn't know it to look at it. Anthony Michael Hall is brilliant as the comedic geek - Farmer Ted. As is John Cusack one of his sidekicks. Although this was the first of many times for AMH to play a geek he managed to do so in many different ways. Don't expect him to be like Brian in the Breakfast Club. Farmer Ted is King of the Geeks!
Although the storyline is more comedic and ultimately more unrealistic than other Hughes teen movies (except perhaps Weird Science) it does not suffer from this. The angst count is down and the supporting cast is great. The grandparents are especially good in their roles as is one of the more memorable characters - Long Duk Dong. Okay he is portraying a crass national stereotype but he does it well, although I wouldn't say with dignity necessarily.
Whilst not everyone who likes the other two Ringwald/Hughes movies (The Breakfast Club and Pretty In Pink) are as keen on this, I think it is a fun film that is worth a couple of watches. It is more in the vein of Licence To Drive than Pretty In Pink and probably serves as a good introductory movie to the 80's Teen Movie phenomenem. This seems quite fitting as it was also John Hughes, Molly Ringwald, Anthony Michael Hall and John Cusack's introductory movie to this genre as well.
By the way does anyone actually know what happened to Michael Schoeffling?

UPDATE!!!
Well it appears someone does know. Check out this website if you are interested:
What Happened To Michael Schoeffling?
---
[Main Page]