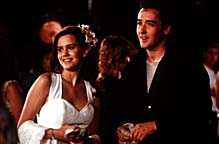 Starring:
John Cusack and Ione Skye
Sounds:
[Lloyd; "I wanna get hurt"]
They say to know Lloyd Dobler is to love him and Diane is about to get to know Lloyd very well!
When Lloyd Dobler meets Diane Court it's first love at long last. But the course of true love is never destined to run smoothly. For Diane is not your typical girl-next-door, she's a brilliant mind trapped inside the body of a gameshow hostess...and completely out of Lloyd's league. But then Lloyd isn't your regular kind of guy. He's determined to win her heart whatever the cost...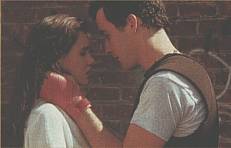 This is actually possibly the sweetest film of all the teen movies. It is a tad different to the others though. It seems to start out the same; He likes her and wants to ask her out. His friends don't think it would work. She has problems with her father, etc. The twist here is that he asks her out and goes out with her....right at the start of the film! It basically follows them on from there. It also boasts a quite original (and very effective) ending.
The film mainly charts the course of their relationship, as well as Diane's relationship with her father. He runs an old people's home and is being investigated on a charge of fraud. She won't believe her father is guilty and it starts to take its toll on her as she is meant to go to England to study on a scholarship. Plus her dad tells Lloyd he doesn't want him to join her in England.
There are some nice touches in the film. Including the conspicuously single guys giving Lloyd dating advice and Lloyd upon meeting Diane's father and being asked what he does explaining about kickboxing.
What more can you really say about this? It is very sweet. Less comedy than some other films, but it also has John Cusack and all his teen films are quality films. An original end and noticabley different plot to the average teen flick this film is worth watching at least once. Oh and Joan Cusack is in it as well.