(Kevin Smith; 1995)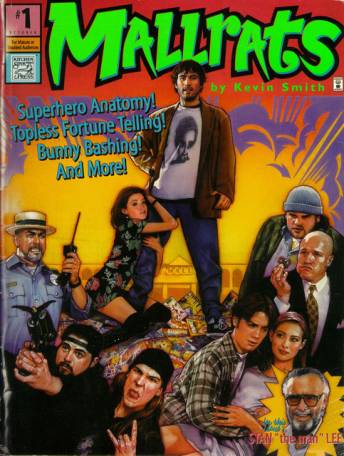 Starring:
Jason Lee, Jeremy London, Shannon Doherty, Claire Forlani, Jason Mewes, Kevin Smith, Ethan Suplee with Priscilla Barnes, Michael Rooker and Stan Lee
Sounds:
[Brodie: "Chicks & Comics?"] [Jay: "Phat Chronic Blunt"] [Brodie: "Cherche La Femme"]
"They're not there to shop. They're not there to work. They're just there."
From Kevin Smith, the acclaimed director of Clerks, comes this outragous story of two loafers, Brodie Bruce and T.S. Quint, who spend way too much time hanging out at the mall.
When Brodie (Jason Lee) is dumped by his girlfriend Rene (Shannon Doherty) he retreats to the mall with his best friend TS (Jeremy London), whose girlfriend has also left him. Between brooding and visits to the food court, the unmotivated twosome decide to win their girlfriends back with the help of the ultimate delinquents, Jay (Jason Mewes) and Silent Bob (Kevin Smith), whose continuing adventures take the word "nuisance" to a whole new level.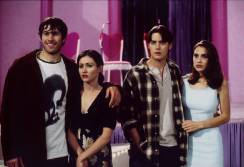 At first I wasn't sure whether or not to include Mallrats in my 90s teen movie reviews as it is technically seperate - part of Kevin Smith's inappropriately titled New Jersey 'Trilogy' (comprising of Clerks, Mallrats, Chasing Amy, Dogma and the upcoming, untitled 'VA5') But then I realised, hey it is a teen movie. Apart from having all the classic elements (TS is at college, relationships, sex, comedy, etc.) this was Kevin Smiths homage to teen movies of the past, most noteably Animal House.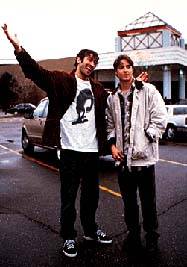 You wouldn't have realised that this was Jason Lee's first major film (prior he was a professional skateboarder). He is the star of the show. Stealing nearly every scene, except of course those with Jay in, he is the best excuse to watch this film again and again. He is like Judd Nelson in The Breakfast Club, you want to be just like his character when the film is over. And considering the character of Brodie that is saying something!
The film starts with TS about to leave for Florida with his girlfriend Brandi (Claire Forlani) when she tells him she can't go and that she has to appear on her father's game show (which is like a Blind Date/The Dating Game rip-off). They argue and she dumps him. Meanwhile Brodie is being dumped by Rene because among a whole laundry list of complaints, he won't introduce her to his mother and he ignores her to play Sega Hockey all night. Not to mention his vast comic book collection. Brodie and TS hook up and go to the mall, where it just so happens that the gameshow Brandi is appearing on is being set-up. They inlist the help of Jay and Silent Bob to help wreck the show. That is pretty much the extent of the plot. The rest of the film is mainly some comic characters (like Willam - Ethan Suplee - who can't see those magic eye pictures and is going to stay at the mall until he can, or 15 yr old Trisha Jones who is writing a book on the sex habits of men aged 14 - 40, called Boregasm), some amusing slapstick and a lot of dialogue. Yes you read write dialogue. This film may sound as though it will be another Fast Times At Ridgemont High but it is the dialogue in this film (as with all Kevin Smith films) that puts it above the rest of the pack. Well written, very insightful, as with Hughes' films Smith can write an accurate and mind bendingly good account of young people and their mind-sets and actions.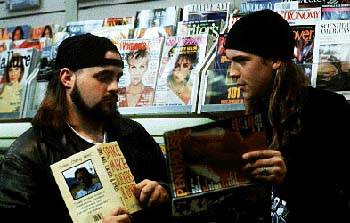 With a good supporting cast (including Ben Affleck and Joey Lauren Adams), great dialogue, plenty of pop-culture references,lots of comedy, a great soundtrack and one of the best performances ever from Lee and one of the greatest comic characters ever in Jay this film is one of if not the best of the nineties teen movies!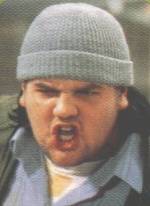 Hmm did you notice earlier I said about a comic book collection? Well if you are into comics you will like this film even more due to its comic book intro, comic dialogue and analagies and of course - THE MAN - Stan Lee as himself! Just look at the comic book style film poster and all the comic related posters and items throughout the film.
---
[Main Page]