(Kevin Smith; 1994)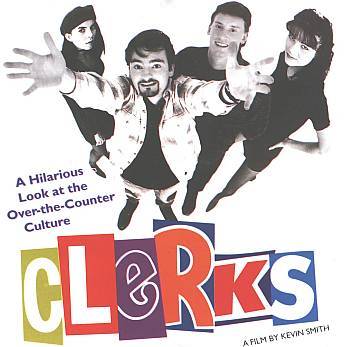 Starring:
Brian O'Halloran, Jeff Anderson, Marilyn Ghigliotti, Lisa Spoonauer, Jason Mewes and Kevin Smith with Walt Flanagen and Scott Mosier.
Sounds:
[Randall: "Ruling Class"] [D + R: "You Hate People!"] [Randall: "Sex"]
"Just because they serve you, doesn't mean they like you."
Clerks tells the brilliantly funny story of a day in the lives of 22-year old Dante, who works in a Quick Stop convenience store, and his crazy friend Randal, who works in the neighbouring video rental store 'RST Video'.
It's 6am, and Dante discovers he has to go into work on his day off. It's just the beginning of a very bad day, where he has to survive his girlfriend's graphic sexual confessions, a mad hockey team, the unexpected arrival of his sexy ex-girlfriend and a constant stream of offensive customers. This is a day Dante will never forget.
By now most people have heard of Clerks or at the very least its writer/director Kevin Smith. There is a good reason for this as Clerks is a fantastic movie. Well written with snappy, witty dialogue and good characterisations. This film draws you into its world and brings plenty of laughs along the way. I mean lets face it, this film is described as great and hilarious despite being about a couple of guys at work in shops. It is chocked full of pop culture, good songs and was making Star Wars references before it was fashionable. This film inspired the ill-fated Clerks The Animated Series which featured the original cast providing the voices (and was hilarious) and is the first film in the so called 'View Askew Jersey Trilogy' consisting of 'Clerks', 'Mallrats' and 'Chasing Amy'. Although many fans also include 'Dogma' and 'Jay and Silent Bob Strike Back' in this as all films feature the characters Jay and Silent Bob (played by Jason Mewes and Kevin Smith respectively). They also include references to characters and places met in this, the first View Askew film.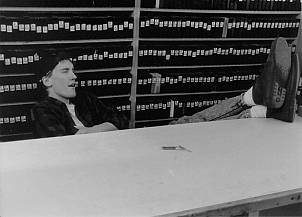 The whole film cost approx. $27,500 to make. Financed mainly by director Kevin Smith maxing out his credit cards. It was shot almost entirely at the Quick Stop and video store which he and his friends worked at during the day. The film in fact features many of Smiths friends, family and some regular customers and the stores owner. Because they were forced to film at night and couldn't afford any studio lights to counter the green effect the stores halogen bulbs would have had they had to film in black and white. The film certainly doesn't suffer though. If anything this may help.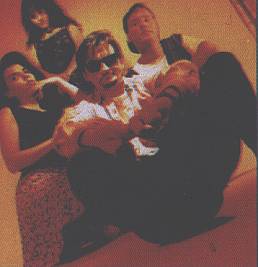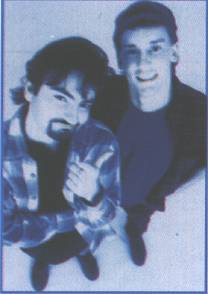 Basically the story is thus: Dante is awoken by a call from his boss saying someone is off sick and can he cover at the store (the Quick Stop) until lunch time. Dante agrees but only till lunch time as he has a hockey game in the afternoon. Upon arriving at the Quick Stop he finds someone has jammed gum in the lock so he can't open the shutters. Whilst Dante is trying to be a responsible employee his friend Randall who turns up (late) to open the video store is not. He constantly insults the customers and closes the store to come and hang out with Dante. In the morning Dante's girlfriend arrives and they have an argument. Dante thinks this may be a result of a subconscious desire to get back with his ex-girlfriend who has been ringing him. Until Randall finds out she is getting engaged. To cap it all off the boss has gone to Vermont and left him stuck at the shop. During the course of the day (and the rest of the film) Dante is pelted with cigerettes, hassled by customers, plays hockey on the roof, goes to a wake, fined, visited by his ex and basically forced to actually stand up and take some responsibility and try to better his situation.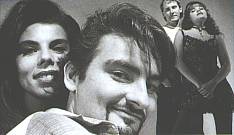 With a good supporting cast, great dialogue, plenty of pop-culture references,lots of comedy, a great soundtrack and three of the best characters ever created in the form of Jay and Silent Bob (who just hang out outside the store all day peddling drugs) and Randall, this film is one of if not the best of the nineties teen movies!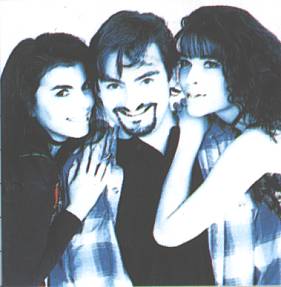 If you like the characters of Dante and Randall and want to see more of their antics then you may want to know that they turn up briefly in 'Jay & Silent Bob Strike Back', also they are the main characters in 'Clerks The Cartoon' which is available to buy on Region 1 DVD. There is also a short sketch featuring the two stuck in a traffic jam called 'The Flying Car' which was originally shown on The Tonight Show and is available to download on the internet. Try looking here first -> The View Askewniverse
---
[Main Page]