---
PANDORA PEROXIDE'S BOX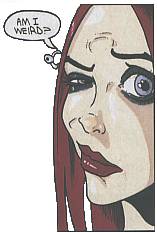 Welcome to Pandora's Box. Here you won't find the troubles of the world, but instead as many pictures as I can get of Pandora, from Kerrang!'s comic strip as drawn by Ray Zell. (Click on the banner to the right to see his own official site with the history of Pandora and his other creations as well as some of Pandora's complete strips).
Prettier than Lara, cooler than Buffy and wittier than the girls from Bits. Pandora even has good taste in music (and an endless supply of Bitch T-Shirts) - who could ask for more?
What's that you want more? OK well there are also two other people to check out here. Pandora's original incarnation (now known as Auntie P) and Web. Click on the pics of each below to go to their sections.
[Gallery 2] [Gallery 3] [Gallery 4] [Gallery 5] [Gallery 6] [Gallery 7] [Gallery 8] [Gallery 9] [Gallery 10] [Gallery 11] [Gallery 12] [Gallery 13] [Gallery 14] [Gallery 15] [Gallery 16] [Gallery 17]
Pandora Pics:-