DAVE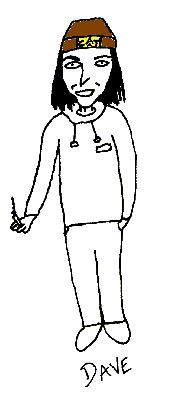 Sayings:
"Someone make me tea, it's not my turn"
"Me and Clint went rappin' Gansta stylee"
"I'm so bored, someone think of something interesting for me to do!
This is Dave. Known to others as 'DAVE!'.
He comes over to 'The Harrow' fairly regularly. Almost too regularly. In fact almost everyday!
While he's there he tries to convince the members of the house to make him tea and generally bitches at how boring their house is.
[Character Index] [Previous] [Next] [Home]